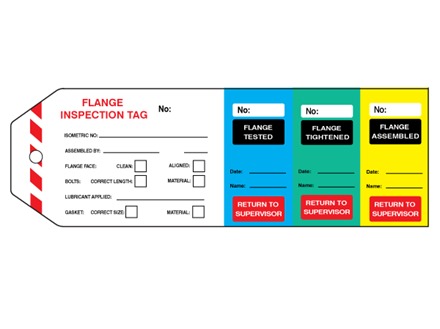 Customisation Options
Please enter starting serial number:
(Text field is limited to 5 characters)
Maximum 5 numerical characters. The labels provided will be numbered consecutively, starting at the specified number.
You may also be interested in....
Valve control product. Flange inspection tag. Four part serial numbered tags (with perforations) for the inspection and maintenance of flange connections on pipes, valves and pumps. Supplied in packs of 100 tags.
Valve control tags. Flange testing tag. Supplied in packs of 100 tags. Tag has one fixing hole (5mm diameter) for cable ties.
TVC135 Size 201mm x 68mm. Material semi-rigid plastic
Maximum of 5 digit serial number. Please state start number of sequential numbering.
201mm x 68mm
Material:
Semi-rigid plastic
Colour:
Black, red, blue, green, and yellow on white.
Quantity: 1+
(£315.00 inc VAT)
Send us an enquiry about this product