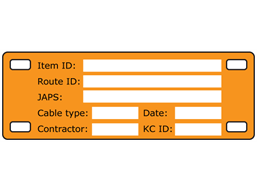 Customisation Options
Please select first print colour:
Please select second print colour:
Artwork Instructions
Please enter any additional information.
Please upload your custom design.
A single colour print applies to this part.
A full design proof will be supplied for your approval, prior to production.
Valid file types: gif, jpeg, png, eps, pdf Maximum Upload Size: 1,536 KB
Tooling
For initial orders, a tooling charge is applied to enable the creation of your product. This tool is for your sole use.
Repeat orders for identical designs do not incur a tooling charge, as the tool already exists.
If the order you are placing is a repeat order, please click the "Existing Tool" button to reference your product.

Find Existing Tool:

Please supply your tooling reference number so that no tooling charge is applied to your repeat order.

If you have any difficulty in obtaining this reference, please contact us so that we can assist you.
You may also be interested in....
Custom printed cable tag. Two colour print on semi-rigid plastic, with four slotted holes for attaching to electrical cables, leads or wire. Supplied in packs of 500 tags.
Custom printed tags. Cable tie tags, printed to your own design in two colour on one side. Material is 0.5mm polypropylene plastic.
CML202 Size 35mm x 100mm. Material semi-rigid plastic.
35mm x 100mm
Material:
Semi-rigid plastic
Colour:
White
Quantity: 1 - 1
(£738.00 inc VAT)
Quantity: 2 - 2
(£516.60 inc VAT)
Quantity: 3 - 3
(£442.80 inc VAT)
Quantity: 4 - 4
(£369.00 inc VAT)
Quantity: 5+
(£332.10 inc VAT)
35mm x 100mm
Material:
Semi-rigid plastic
Colour:
Yellow
Quantity: 1 - 1
(£738.00 inc VAT)
Quantity: 2 - 2
(£516.60 inc VAT)
Quantity: 3 - 3
(£442.80 inc VAT)
Quantity: 4 - 4
(£369.00 inc VAT)
Quantity: 5+
(£332.10 inc VAT)
Send us an enquiry about this product