No Smoking Signs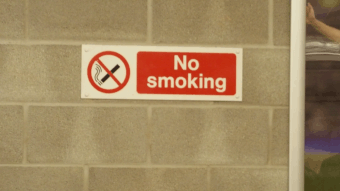 Our extensive range of no smoking signs from Label Source. Ensure that you comply with legislation on smoking by displaying these smoking prohibition signs where necessary.
Legislation has created smoke free environments in enclosed and substantially enclosed buildings, on public transport (buses, trains, taxis and ferries) and in commercial transport such as heavy goods vehicles. These no smoking signs can reinforce this message in the workplace and public places.
The no smoking guidelines are included in law, namely; The Smoke-free (Premises and Enforcement) Regulations 2006, and The Smoke-free (Exemptions and Vehicle) Regulations 2007 in England; Prohibition of Smoking in Certain Premises (Scotland) Regulations 2006; The Smoke Free Premises (Wales) Regulations 2007; and Smoking (Northern Ireland) Order 2006.
All our no smoking signs comply with ISO EN 7010 and the Safety Signs and Signals Regulations 1996. Order your no smoking safety signs today!