Custom Safety Labels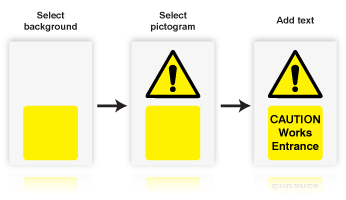 Looking to order some custom safety labels that will meet your site's specific requirements? Here at Label Source, you can design your own warning labels for plant or equipment. Choose from a selection of ISO EN 7010 health/safety symbols, then add your own bespoke wording. These custom safety labels are available in portrait and landscape styles, with space for single or multiple messages.
Our collection of symbols includes a comprehensive range of prohibition, mandatory, hazard warning, safe conditions and fire equipment symbols - you can add any of these to the custom labels that you create.
These self-adhesive vinyl labels have a laminated surface, making them resistant to abrasion and rubbing. Our custom safety labels are also UV- and chemical-resistant, as well as being waterproof and weatherproof.
For other sizes and material types of custom safety labels, please contact our sales office.