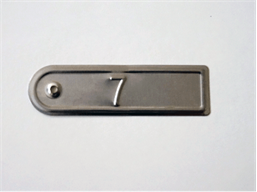 Customisation Options
Please enter starting serial number:
(Text field is limited to 5 characters)
Maximum 5 characters. The tags provided will be numbered consecutively, starting at the specified number.
You may also be interested in....
Embossed tinplate tags, with raised, stamped serial numbers. Size 20mm x 75mm. Quantity of issue 500 tags. Specify number range required.
Custom stamped tags. Serial numbered tinplate tags. Ideal for shot blasting, galvanising and paint spraying. Supplied in packs of 500.
EMT200 Size 20mm x 75mm. Material tinplate.
20mm x 75mm
Material:
Tinplate
Colour:
Silver
Quantity: 1+
(£222.00 inc VAT)
Send us an enquiry about this product