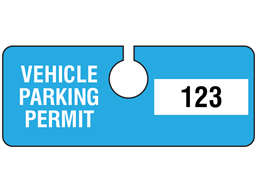 Customisation Options
Please enter starting serial number:
(Text field is limited to 5 characters)
You may also be interested in....
Vehicle parking permit tag. Suspend from rear view mirror. Serial numbered. Supplied in packs of 25 tags.
Parking permit tags. Vehicle parking permit with serial number. Specify serial number sequence. Supplied in packs of 25.
XVP200 Size 50mm x 125mm. Material semi-rigid plastic.
50mm x 125mm
Material:
Semi-rigid plastic
Colour:
Blue and black print on white
Quantity: 1 - 3
(£75.00 inc VAT)
Quantity: 4 - 9
(£67.50 inc VAT)
Quantity: 10+
(£63.90 inc VAT)
Send us an enquiry about this product