Quality Assurance Demarcation Tapes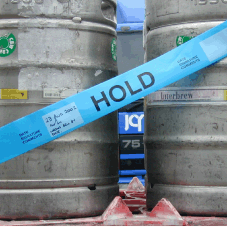 These non adhesive 70 micron polythene plastic tapes are used to segregate goods, products, stock or consignments, by cordoning off areas, shelving, cages, containers or pallets. These quality assurance barrier tapes have a section to add date, signature and inspection details. Included in the range of demarkation tapes are passed, reject, hold, quality control quarantine and quarantine.
The quality assurance barricade tapes are easy to apply, simply wrapping around or across the relevant products, which subsequently can be removed without leaving any marks or adhesive residue. They can form a handy tool within your IS0 9001 or other quality assurance system during production, assembly, sub-assembly, inspection, testing, storage and distribution.